This stylish 7-string features a 26.5" scale length for better low-end articulation, a lightweight and resonant poplar body with an arched top and a bolt-on maple neck with graphite reinforcement and scarf joint for rock-solid stability. Hosting 24 jumbo frets and piranha tooth inlays, the bound 12"-16" compound radius rosewood fingerboard creates the ideal playing surface for fat riffs and easy chording near the black plastic nut while gradually flattening in the upper registers for lightning-quick solos and wide bends without fear of fretting out
/* FONTS AND COLORS */
body {
font-family: Arial,sans-serif;
font-size: 14px;
line-height: 1.428571429;
color: #333;
background-color: white;
}
h1, h2, h3, h4, h5, h6 {
color: black;
}
.navbar a, .navbar a:active, .navbar a:hover, .navbar a:visited {
color: #333;
}
.product-specs {
background-color: #f1f1f1;
padding: 1em;
}
.product-specs td {
font-size:12px;
}
.attr-left {
min-width:6em;
font-weight:bold;
vertical-align:top;
}
.attr-right {
vertical-align:top;
}
div.footer {
border-top: 1px solid #f1f1f1;
}
.navbar-default {
background-image: -webkit-linear-gradient(top, #ffffff 0%, #f2f2f2 100%);
background-image: linear-gradient(to bottom, #ffffff 0%, #FFFFFF 100%);
background-repeat: repeat-x;
border-radius: 4px;
-webkit-box-shadow: inset 0 1px 0 rgba(255, 255, 255, 0.15), 0 1px 5px rgba(0, 0, 0, 0.075);
box-shadow: inset 0 1px 0 rgba(255, 255, 255, 0.15), 0 1px 5px rgba(0, 0, 0, 0.075);
}
.navbar-default .navbar-nav > .active > a {
background-image: -webkit-linear-gradient(top, #ebebeb 0%, #f3f3f3 100%);
background-image: linear-gradient(to bottom, #ebebeb 0%, #f3f3f3 100%);
background-repeat: repeat-x;
-webkit-box-shadow: inset 0 3px 9px rgba(0, 0, 0, 0.075);
box-shadow: inset 0 3px 9px rgba(0, 0, 0, 0.075);
}
/* LAYOUT – CHANGING THESE WILL AFFECT THE SIZE AND LAYOUT OF YOUR AD TEMPLATE */
/* Responsive Columns */
.col-md-6{width:100%;}
.col-md-12{width:100%;}
.container{margin:auto;width:100%;}
@media (min-width:768px){
.container{width:750px;}
.col-md-12, .col-md-6{float:left;}
.col-md-6{width:48%; margin:1%;}
}
@media (min-width:992px){
.container{width:970px;}
.col-md-12,.col-md-6{float:left;}
.col-md-6{width:48%; margin:1%;}
}
@media (min-width:1200px){
.container{width:1170px;}
.col-md-12,.col-md-6{float:left;}
.col-md-6{width:48%; margin:1%;}
}
.img-responsive{display:block;height:auto;max-width:100%;}
/* Responsive Navigation Bar */
.nav{padding-left:0;margin-bottom:0;list-style:none;}
.nav:before, .nav:after{display:table;content:" ";}
.nav:after{clear:both;}
.nav:before, .nav:after{display:table;content:" ";}
.nav:after{clear:both;}
.nav > li{position:relative;display:block;}
.nav > li > a{position:relative;display:block;padding:10px 15px;}
.nav > li > a:hover, .nav > li > a:focus{text-decoration:none;background-color:#eeeeee;}
.nav > li > a > img{max-width:none;}
.navbar{position:relative;min-height:50px;margin-bottom:20px;border:1px solid transparent;}
@media (min-width:768px){.navbar{border-radius:4px;}
}
.navbar-header:before, .navbar-header:after{display:table;content:" ";}
.navbar-header:after{clear:both;}
.navbar-header:before, .navbar-header:after{display:table;content:" ";}
.navbar-header:after{clear:both;}
@media (min-width:768px){.navbar-header{float:left;}
}
.navbar-collapse{max-height:340px;padding-right:15px;padding-left:15px;overflow-x:visible;border-top:1px solid transparent;box-shadow:inset 0 1px 0 rgba(255,255,255,0.1);-webkit-overflow-scrolling:touch;}
.navbar-collapse:before, .navbar-collapse:after{display:table;content:" ";}
.navbar-collapse:after{clear:both;}
.navbar-collapse:before, .navbar-collapse:after{display:table;content:" ";}
.navbar-collapse:after{clear:both;}
.navbar-collapse.in{overflow-y:auto;}
@media (min-width:768px){.navbar-collapse{width:auto;border-top:0;box-shadow:none;}
.navbar-collapse.collapse{display:block !important;height:auto !important;padding-bottom:0;overflow:visible !important;}
.navbar-collapse.in{overflow-y:visible;}
}
@media (min-width:768px){.container > .navbar-header, container > .navbar-collapse{margin-right:0;margin-left:0;}
}
.navbar-brand{float:left;padding:15px 15px;font-size:18px;line-height:20px;}
.navbar-brand:hover, .navbar-brand:focus{text-decoration:none;}
@media (min-width:768px){.navbar > .container .navbar-brand{margin-left:-15px;}
}
.navbar-nav{margin:7.5px -15px;}
.navbar-nav > li > a{padding-top:10px;padding-bottom:10px;line-height:20px;}
@media (min-width:768px){.navbar-nav{float:left;margin:0;}
.navbar-nav > li{float:left;}
.navbar-nav > li > a{padding-top:15px;padding-bottom:15px;}
.navbar-nav.navbar-right:last-child{margin-right:-15px;}
}
@media (min-width:768px){.navbar-left{float:left !important;}
.navbar-right{float:right !important;}
}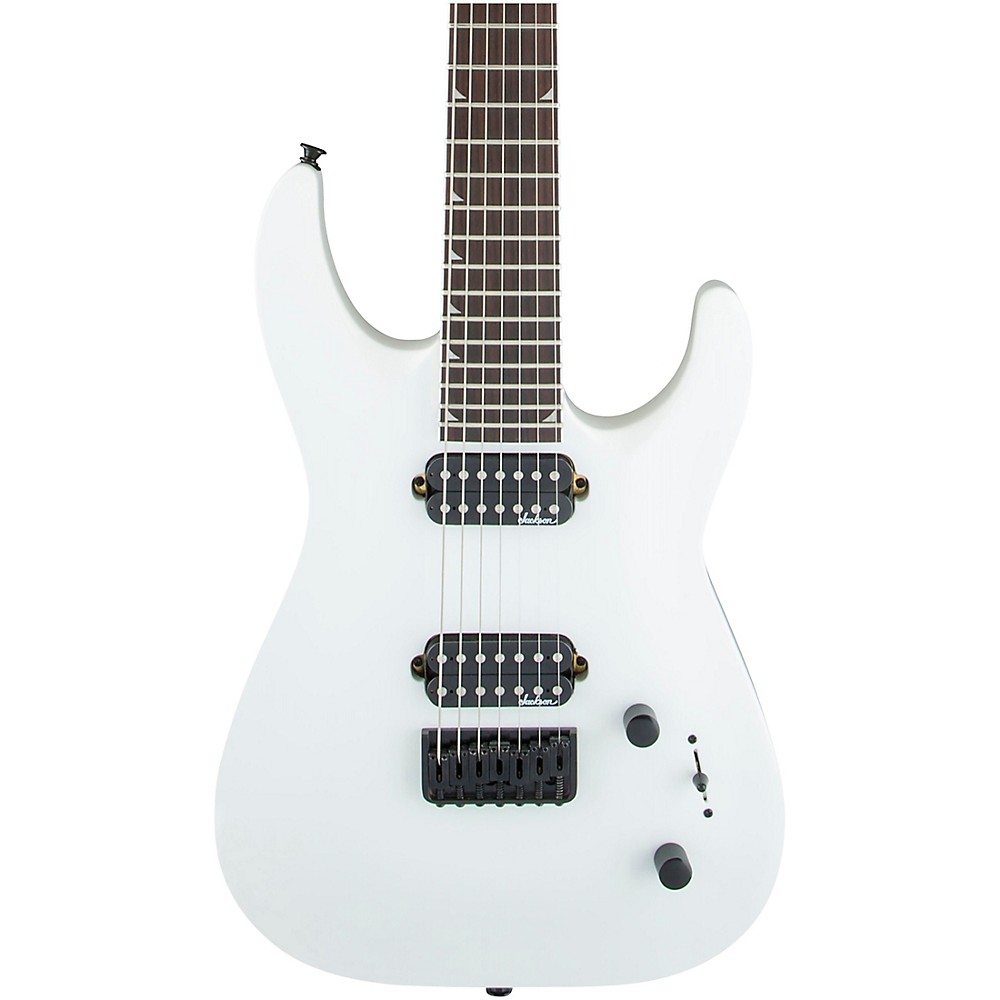 Jackson JS Series Dinky Arch Top JS32-7 DKA HT Snow White 194744523625 OB
item# L37462005001002
This stylish 7-string features a 26.5" scale length for better low-end articulation, a lightweight and resonant poplar body with an arched top and a bolt-on maple neck with graphite reinforcement and scarf joint for rock-solid stability. Hosting 24 jumbo frets and piranha tooth inlays, the bound 12"-16" compound radius rosewood fingerboard creates the ideal playing surface for fat riffs and easy chording near the black plastic nut while gradually flattening in the upper registers for lightning-quick solos and wide bends without fear of fretting out.
Powered by dual direct-mount Jackson high-output humbucking pickups, the JS32-7 DKA HT is also equipped with a three-way blade switch, single volume and tone controls, compensated string-through-body fixed Jackson HT7 bridge, sealed die-cast tuners and Jackson's 3×4 (3 over, 4 under) AT-1 headstock.
Blemished – This gear was returned in great condition, with only minor signs of use, such as slight scuffs or pick marks. It looks and plays like new and may be considered an equivalent to display units found in retail stores. We feel so strongly that you'll like what you see, we're including our 30-Day Satisfaction Guarantee to this used product, making it a no-risk purchase.